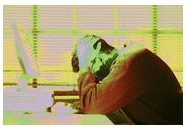 Stress management encompasses techniques intended to equip a person with effective coping mechanisms for dealing with psychological stress.
Definition of stress: Stress management defines stress precisely as a person's physiological response to an external stimulus that triggers the "fight-or-flight" reaction.
Causes of stress: Many things can trigger the stress reaction, including danger, threat, news, illness, as well as significant changes in one's life such as the death of a loved one.
Techniques of stress management include:
Self-understanding (e.g. self-identification as a Type A or as a Type B personality)
Self-management (e.g. becoming better-organized)
Conflict resolution
Adopting a more Positive attitude
Self-talk
Breathing exercises
Meditation
Altering your diet
Taking more regular and effective rest
Time Management Techniques
Some techniques of time management may help a person to control stress. For example:
Becoming more organized and reducing the generation of clutter
Setting priorities can help reduce anxiety
Using a "to do" list of tasks that a person needs to complete can give a person a sense of control and accomplishment
Effective stress management involves learning to set limits and to say "No" to some demands that others make.
Manage and Reduce your Stress
If you are one of the many people who want to alleviate your stress, you can learn some simple techniques to help you get out of the vicious cycle of leading a stressful life. Your stressful life does not just affect you, but everyone around you. It affects your relationships as well as any children or co-workers. Most of all, it can actually make you physically ill.
There are many facets to stress. Stress manifests itself in many differnet ways and can be either self induced or something that occurs in life. We can never eliminate stress from our lives as stressful situations are part of life. However, we can learn to react to stress in a positive manner and take control of the situation rather than allowing the stress to remain in control. This book will teach you different tips as well as old secrets on how to identify the stressors in your life as well as learn to manage them.
Psychologist World Stress Management Manual: Downloadable Edition
Once you realize what stress actually is and how it manifests itself in your life, it is much easier to gain control. Most of us experience stress because we feel out of control over a particular situation. While we may not always be able to eliminate the factor that is causing the stress in our lives, it is possible to control our reactions to the stress.
By controlling our reactions in a positive manner, we can not only alleviate the stress, but actually get it to work in our favor. If you have been experiencing stress in your daily life and do not know how to regain some sort of sense of order in your life, this is the perfect book for you. Here you can learn positive ways to deal with every day stress. You can also learn the difference between the stressors that you can eliminate from your life and those with which you simply have to endure. We all have to endure stress in some aspects of our life - it is unavoidable. Wouldn't you rather know how to deal with stress in a positive way, instead of a negative, potentially self-destructive manner?
If you want to learn how to break free of the cycle of living a stressful life and get a sense of harmony back into your existence, The Psychologist World Stress Management Manual can teach you the right way to go about living a healthy life that involves positive reactions to stress in a way that will help, not harm, you.
If you want to learn exactly how you can go about leading a less stress filled life for your own benefit as well as for the sake of anyone around you, you can learn everything you need to know and more when you read:
Learn How To Identify Stressors In Your Life
Everyone experiences stress. Stress can come from a variety of different situations that can be good or bad. It can also come from within. The trick to managing stress in your life is to be able to identify stressors and understand if they are from outside sources or if they are self induced. Learning how to eliminate some stressors an simply deal with others is not difficult once you learn the secrets that are revealed in Psychologist World Stress Management Manual. This book has everything you need to know to getting started on a more relaxed lifestyle.